dynApi – Robotis Dynamixel C++ API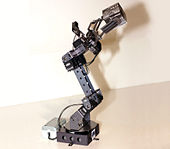 This package provides access to Robotis Dynamixel servos and sensors. These devices are on a bus which is connected to the host PC via a robot controller (interface).
Interfaces currently supported:
Robotis CM-5 (serial port)
[planned: USB2Dynamixel]
Devices currently supported:
AX-12 Servo
AX-S1 Sensor Module
dynApi relies on several backends, i.e. provides serveral ways to communicate with a connected interface. Backends available may depend on the platform you are using.
dynApi currently has been tested on:
Linux 2.6, gcc 4.2
MacOS X (not yet!)
Windows XP, Visual Studio v8 .NET 2003 (backend not working yet!)
Windows Vista, Visual Studio v9 .NET 2008 (backend not working yet!)
The following table shows the platforms and backends currently supported by dynApi:
Robotis CM-5 controller (serial connection 57600): Linux2.6 and MacOSX
Robotis USB2Dynamixel libusb support: not yet
dynapi – c++ programmin api (released under the GPL license)